About Us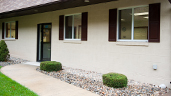 T.G. Industries occupies a modern, air conditioned, 10,000 sq./ft. facility located in southern Connecticut, an area rich with skilled labor and technical ability. Our company benefits from this rich machining heritage by having extremely competent personnel that are involved in all stages of the manufacturing process.

We are capable of serving a number of different industries. They include but are not limited to: automotive, electronic, competitive boating, pollution control, defense, aerospace, filtration, industrial, motorsports and fluid purification. Typical materials can include but, once again, are not limited to: aluminum, brass, bronze, copper, hastalloy, inconel, stainless steel, steel, titanium, tool steel, various plastics and tungsten.

TGI also has a fully equipped quality department that ensures our products are manufactured within customer specifications. We are committed to growth and continuous improvement. Since 1996, TGI has increased capacity by over 300% and has recently added 5000 sq./ft. to the facility.

We are able to accept your jobs for quotation via mail, fax, or e-mail through a variety of file formats.
Our Quality System is to MIL-I-452058A.