Full Service Machining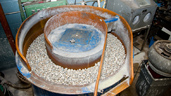 With our wide range of top of the line equipment, and our skilled staff, TGI offers unmatched full service machining to its clients. T.G. Industries has an extensive milling department capable of suiting a wide variety of milling needs. Whether you need a complex 3-D contour or a simple hole pattern our 4-axis CNC capability can produce virtually any part. And, with the latest Cad CAM programs we're able to receive files in a variety of formats.
Our three (3) Fadal machining centers can handle your general purpose needs ranging from short and medium production runs. For heavy duty roughing to high precision machining we have our 2 Feeler VMC's . However, if light duty milling and drilling is what you require, then our Kira VTC30 machining center is the ideal solution. For large quantities, or our Fadal VMC's with pallet changers optimize throughput and gets the parts done right and on time.